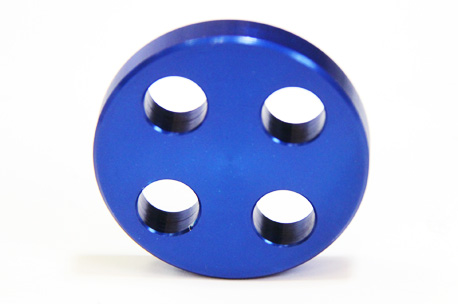 Direct steering collar
This can improve feeling of your steering operation to direct.
The genuine bush is made from rubber because it decreases a vibration which transmits to steering wheel from engine or ground and prevents from rapid change of posture by difficult steering operation.
In sporty driving,it is unnecessary that the decrease of vibration and prevention of posture change because it interrupts you get the information which is trancemitted from car or ground, also it is a change of movement which is delay as one step behine for steering operation.
So,you can operate steering surely and receive information which is transmitted from car and ground because it can get rid of futle moving of the genuine bush by changing to aluminum steering collar.
Other than the sporty driving, you can feel steering response directly by replacing steering bush which deteriorates over time.
Aluminum steering rack bush
Improvement of steering response
It improves steering response that the bush which mounts the steering rack on the member.
It decreases futle movement and improves steering response when you operate steering that mount bush which mounts steering gear box on the member is replaced from genuine rubber to aluminum.
Driving is delay as one step behind from starting to operate steering to turning to curve actually or you can't drive in the route which you expect because the steering rack which is mounted by bush moves when the steering bush deteriorates.
Also,malfunction of steering operation may happen because the steering position moves to right and left every turning. When the driving such a condition lasts,steering rack may interfere itself for the worst. We recommend this in such a situation.