SUPER LOWER ARM BAR FRONT
Restraint of twist and distortion of the body
It can restrain twist and distortion of the body when the cornering by body reinforcement from under the floor. Because it fixes the body and an assistant member directly, it leads to the reduction of the creak sound of the body.
Because body stiffness of genuine FD3S isn't that good, many drivers may feel body twist and the sense that front and rear of the body is rolling separately at the time of high speed run.
Front and rear super lower arm set-use helps realize extra body stiffness greatly. Especially set-use with the tower bar improves that effect because the body reinforcement is achieved on the upper and lower parts of the suspension.
Like the right image, you just attach it among a genuine bolt and the body, assistant member. Moreover it is very lightweight, only 1.5kg, the worry of the weight increase by the body reinforcement is not necessary.
※For installation the perforator processing of the body may be necessary, for instance, because of the distortion of the vehicle.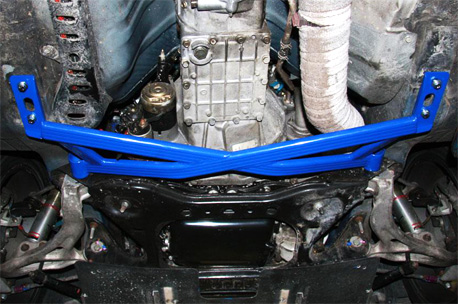 SUPER LOWER ARM BAR REAR
Reinforcement of the floor lower body stiffness
The genuine reinforcement bar under the floor is not able to tolerate lateral gravity at the time of the sports run because it is too thin. The distortion of the body reinforcement caused by decreasing of the floor lower stiffness is the reason of lacking in the setting of the rear tire, lack of a sense of unity of the body, and the rear unstable movement.
Therefore the body stiffness improves markedly by setting the super lower arm bar that strength improved greatly, and a sense of unity occurs in the vehicle. In addition, the rear unstable behavior is settled because a useless roll disappears.
The installation is very simple because you just remove a genuine floor lower reinforcement bar, and set a super lower arm bar. It's not necessary to worry of the weight gain, because the weight is 2.4 kg, which is as same as the genuine floor lower reinforcement bar.
※To attach it, the cut processing of the undercover is necessary. Depending on the form of the exhaust put on, this product may interfere.
In that case, it is necessary to secure clearance by washer colors.