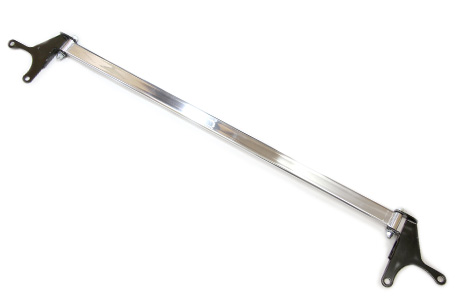 L.S TOWER BAR
The improvement of the body stiffness for the family cars.
The driving with the body bending leads to improvement of the comfort because the body absorbs vibration or the shock from the ground. The car model for families like a minivan or a station wagon tends to be strong in this characteristic in particular. However, a body bending and being warped leads dizzying image when the cornering on the highway because the driver's steering operation becomes hard to be transmitted. Then a tower bar, the item improve the body stiffness easily, is useful.
By both fixing a tower bar on the part which is easy to bend and sensitive the power from the ground and connecting tightly right and left of the body, steering performance improves markedly.
Color: Black and Silver

The plate part adopts a steel plate of the black painting. It achieves stiffness and dress-up at the same time.

Aluminium Oval Shaft

Aluminium oval shaft 40φ has realized the high stiffness and light weight.

Bolt-on design

The bolt-on design matched with the genuine structure. (Except for some car models.) You can easily attach it just by putting it between a nut which fix the suspension and the body.