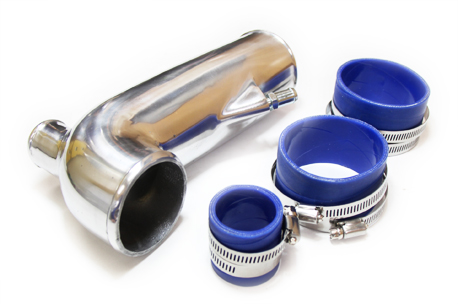 SUCTION PIPE
The boost pressure and the accelerator response are improved
The genuine intake hose has bellows figure in middle of hose because it absorbs shakes or it can be handled easily.This bellows causes turbulence then the resistance of intake increases.As a result,the efficiency of intake lowers.
If the intake efficiency lowers,the accelerator response or hose power also lowers because the air quantity which the engine needs isn't sent.So KTS removes the bellows and has developed the suction pipe which can improve the intake efficiency drastically.
The accelerator response and the start of boost pressure are improved because the air is delivered to engine or turbine efficiently by improvement of intake efficiency.
The remove of bellows

It can decrease the intake resistance that the bellows part of normal intake hose is removed. The response of accelerator or boost is improved because the intake efficiency is improved.

Attachment hose

This is attached with the double layers hose for connection parts. This must outstand because this color is vivid blue. This can control the expansion and contraction by intake because this has double layers.

Installaton picture of JZX100

This has not only the improvement of intake efficiency but also making the engine room dress up by silver and blue hoses.