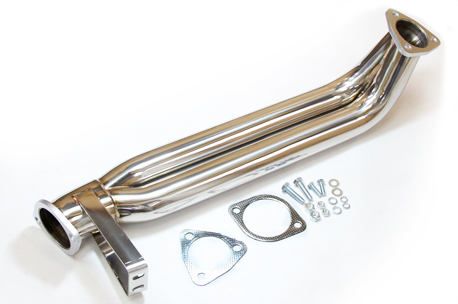 60φ Double all stainless front pipe.
The lowering car can have efficient exhaust.
It can prevent the exhaust leak by the flange distortion that the flange is high strength type of 10mm thickness. The lowering car can have efficient exhaust because this uses double 60φ pipes.
[Specification] The diameter of pipe :60 φ. The thickness of flange:10 mm. With gasket.
The experiment car: S14 turbo, Before minor change Specification:Nur-spec muffler and the straight pipe of catalyst are installed.It is full-normal except for these points.
|   | Genuine | 75φ | 60φdouble |
| --- | --- | --- | --- |
| The peak of power | 232.6ps | 241.5ps | 243.4ps |
*The experiment car's specification on the catalog is 220ps.
The result is above table.The car's power raises in the maximum 10.8ps than the genuine.
As a engine's characteristic,the 60φ double has the largest power in others. 75φ also get the power-up but this isn't as much as 60φ double,and has a little of torque curve line valley, as a result this get the power-up more in the engine's high revolving area than 60φ double. (*Please note the result isn't always same because the same kind of cars may differ from depending on the individual car.) Also,this is suitable for the lowering car because the height from ground in a part of front pipe hides into the frame.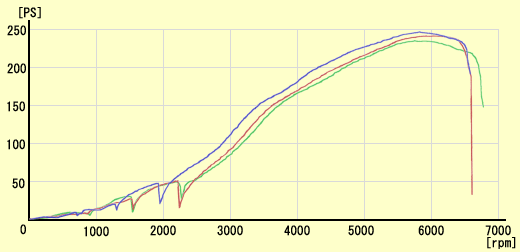 Red: 75φ all stainless front pipe
Blue:60φ double all stainless front pipe
Green: The genuine pipe
Double Pipe

This has special figure which uses double 60φpipes.This can improve the exhaust efficiency without changing the minimum height from ground.

High strength flange

It can prevent exhaust leak by flange distortion that the part of flange is used high strength type of 10mm thickness.

Attachment

High adhesion gasket,which prevents exhaust leak,is attached in front pipe side.