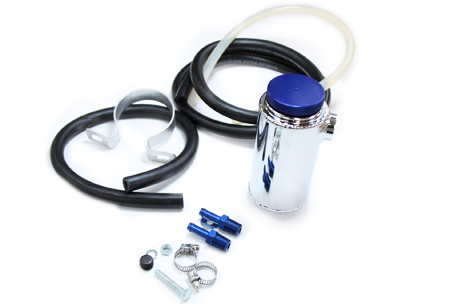 LSD OIL CATCH TANK
For counter-plan of blow by in high temperature.
When you drive sporty like a drift driving for a long time,LSD oil gushes from hole at upper differential case by accompanying to rising oil temperature, then the place around differential case is covered with oil. So,it can prevent from scattering blow by around there that oil catch tank is installed.
[Specification] Capacity:230cc Height:110mm Width:55mm General purpose item.
LSD oil catch tank

This is LSD oil catch tank and the capacity is 230cc. This coloring becomes accent of one point because the tank is silver and the catch and the nipple are colored blue.

The pressure proof hose is attachment.

The pressure-proof hose of 2 patterns length is attached. Long:approximately 1.3m. Short:approximately 0.5mm. Because this is used for wide variety of cars. You can cut this to fit to your car.

General-purpose item

There is no place designated for installation because this is general-purpose item. Place oil catch tank at higher than differential case's place and connect oil proof hose to nipple at lower part of oil catch tank.