STAINLESS STEEL MESH CLUTCH LINE
For counter-plans of hose expansion in using use the clutch which is high horsepower or high crimping type.
The reinforced clutch which transmits high output power needs the reinforced clutch hose without expansion. Stainless steel mesh clutch line can bring out the direct feeling by high rigidity. Also we have confirmed the liquid leak by inspection which this item is under more than 250kg/cm2 pressure.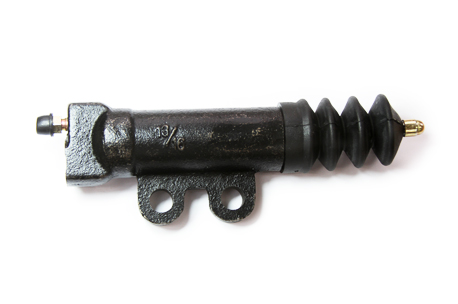 BIG CALIPER OPERATING SYLINDER
The reduction of pedaling force have improved the ability of control.
We recommend this to the guys who have made clutch pedal heavy by installation of metal clutch.The pedal load can be reduced about 15%.
You use this for only metal disk of single plate.
This can't use with non-asbestos disk or copper facing which are KTS original.
In the others, this can't use for plate of many plates type.
REINFORCED PIVOT
For the prevention of broken pivot in fitting sport clutch.
The load to release pivot increases if you install the sports clutch, the genuine pivot has a danger of break. Therefore the genuine pivot needs to replace from reinforced item is made of chromoly, this can prevent from troubles of pivot break in advance.
Also,this can prevent from troubles of slack and deterioration because this use not spring washer but flat-washer.