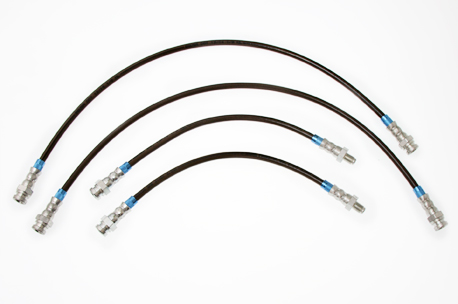 BRAKE LINE
This brake line is made of stainless and conforms to the DOT standard which is a safety standard.
You can order and choose favorite color from 32 patterns in maximum.
It can control the expansion in pressing and can transmit directly the operation for brake pedal that the brake line is changed from the genuine rubber to the stain-mesh.Thanks to this,the control power is improved in comparison with the genuine parts, you can get the effect in sporty driving of the circuit or in the general road.
The brake hose is made by Brake Quip company. We make sure to do the test of press resistance after assembling then we ship this. This is why,you can use this safely.
The elaborate installation comes true because this uses the stay which has the same genuine of genuine in fixing to the car.
You don't bother how to install because the length of brake hose is the same as genuine.
About the STD type,the color of hose body is black smoke and the color of connecting part which is aluminum jacket is blue.You are available to coloring custom-made.You can choose from 4 patterns as hose color and from 8 patterns as jacket color.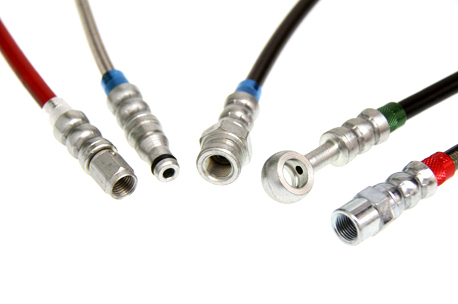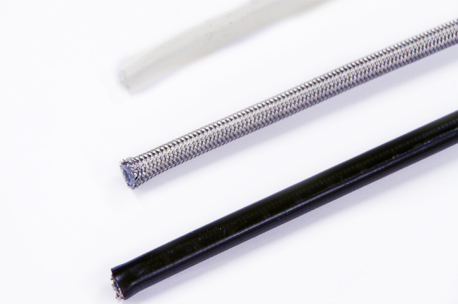 The improvement of the functionality and durability comes true by this hose.
The center part of hose is adopted PTEF hose which has superior durability. The layer covering this is knitted 4 tied-threads which is the 304 stainless material of 0.2mm.This can improve the sttifness.
These factors can control the expansion in pressing.This is why,the feeling of touch the brake pedal is improved rapidly and the direct feeling has been born.Also the PVC hose is adopted in outside part,which has superior flexibility and doesn't deteriorate easily. This material has not only high durability but also all ability which are the flexibility, thermal resistant and flame-resistant.
4 colors of hose

We prepare 4 colors.The standard color is Black and the optional is Clear/Blue/Red.

Vivid 8 colors of aluminum jacket.

We prepare 8 colors for parts of aluminum jacket,which becomes accent as a one point.

Parts of fixing is shaped like a genuine.

We decreased the tie-wrap fasten as much as possible,this installation is superior because this uses the genuine clip or bolt as it is.